Visul Anti Slip Stair Nosings - A cost effective & highly durable anti slip stair nosings
Visul Anti Slip Stair Nosings are an excellent choice for providing a cost effective permanent slip resistant solution for step edges. Not only do they instantly improve slip safety underfoot, they also highlight the leading edge of the steps to ensure footing is made easier.  
Visul Anti Slip Stair Nosings can be fitted to virtually any staircase from steel to concrete and wood. They are very quick and easy to install and no specialist equipment is required. They are either glued and screwed in place or, using a structural adhesive simply glued in place eliminating any visual fixings.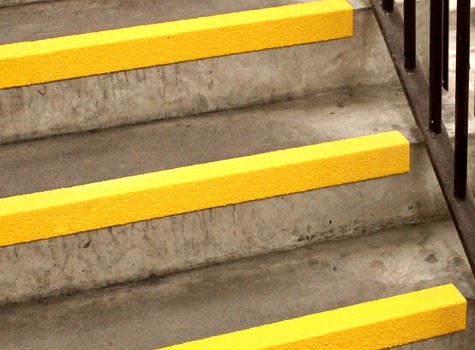 System Benefits:
Full coverage of step
Affordable solution
Tough, durable & hard wearing
Quick & easy installation
Building Regulations & DDA Compliant
For more information please call +44(0)191 402 1960 or email info@usluk.com.